Championship Regatta Graphics™ supplies regatta bow numbers and sail numbers to sailing clubs, yacht clubs, event producers, and sponsors from coast-to-coast and around the world. From Optimist dinghies through 70 foot ocean racers and everything in between, we've got your number!
We produce permanent bow number systems for the Viper 640 Class, Melges 24 class and others. These are cut from high cast vinyl, rated for 8-12 years of life in sun, salt and freshwater. We administer cut/pack/ship from class association data imported into our system, so your class executives can concentrate on planning events. We can even set up custom order pages for your sailors and send back royalty or licensing fees to your class.
Cut vinyl versus sponsor panels:
Many events like the flexbility of cut numbers and some like the convenience of panels. Cut numbers do have to be produced in black or white to accommodate dark hulls (meaning you'll need to know the hull color and how many you'll need before production), but sponsor panels are always white, and can go on any color hull.
Cut numbers are more economical than sponsor panels, and some events like to have a sponsor panel separate from a cut number. The larger the boat, the bigger the sponsor panel, and cut numbers separate from them mean that they can be put on in two steps.
Cut numbers are optimized for bows – a slightly narrower font, kerned (space between numbers) so they are readable by the race committee are ideal. And standard vinyl will stay on in salt or fresh water. These are not made from insignia cloth (for hulls, only insignia cloth for sails), they are vinyl.
We produce cut vinyl bow numbers in 3 colors: Black, White and Dark Blue. Typically you want high contrast with hulls. We CAN produce them in any color, so just ask us. We can match class colors too.
Looking for an eco option? Ask for our "green" vinyl which is recyclable. While more costly, this vinyl can be peeled and recycled at the end of the event. Note,  your area must be able to recycle this vinyl (only a few municipalities can do this.)
A short list of international sailing events we've created bow number stickers for (cut vinyl/printed vinyl):
J111s – around the country
Snipe NAs, Western and Orient
US Youth Championships
S2 7.9x
J24s/J22s (multiple events around the country)
J88 North Americans
Sonar NAx
Albacore NAs
Thistle Nationals
Bell's Brewery Bayview to Mackinac (4 years)
Southern Bay Race Week (multiple years)
Community sailing programs around the country including Downtown Sailing Center, Offshore Sailing School, ReCreate, Davis Island Youth Sailing
CRG™ grew out of Iceboat Graphics, a sister service that equips the International DN and other ice boat classes with vinyl hull numbers and high-visibility port/starboard safety graphics. When you're approaching the marks with 50 other boats travelling on the ice at up to 60 mph, believe us…you want to be visible and know where the competition is!
Regatta Bow Number Sticker Sizing and Colors

Our standard, custom-cut black vinyl regatta bow numbers can be produced in sizes up to 3.25 feet. There are numerous standard fonts to choose from, all carefully selected for maximum readability on the water.
Ten standard colors are available, but we strongly recommend black as the most readable color on a white hull.
Need to match the font or use a custom color to complement a sponsor logo…or need to include a sponsor logo or web address, such as www.marketingacuity.com? We can do that too!
If your national or international sailing regattas has a major sponsor, we can help you ensure that they return as your sponsor by producing full-color adhesive vinyl logos for each boat. These can be printed with or without bow numbers. See our Sponsor Logo Graphics page for more details.
"Reusable" Regatta Bow Number Banners and Placards
Regatta bow number banners or placards are a more Eco-friendly alternative to vinyl numbers that will be discarded at the end of the regatta.
Bow number banners are typically white waterproof vinyl banners measuring about 16 inches tall by 3 feet wide and often include the sponsors logo. Numerous grommet points enable mounting with line or zip ties to lifelines
Regatta bow number placards are similar to banners – the numbers are mounted to lightweight, rigid 1 or 2 mm Sintra plastic. Regatta organizers typically collect a deposit from competitors to ensure that numbers are returned at then end of the regatta.
Economy Regatta Bow Numbers
For really tight budgets try our "Laser-style" digits.
Any regatta bow number can be cut from the 8 digit, and we've thoughtfully included "nicks" so competitors in your regatta can create the bow or sail number digits they need.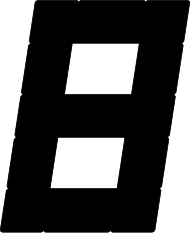 Get a free consultation and quote for your club, fleet, or regatta. Contact us at the e-mail address on the left, call, or send us a message via Facebook.